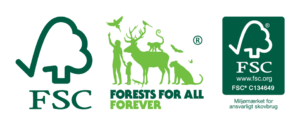 At All Creative A/S, we produce with a clear conscience.
All our products out of Vejle are actually FSC-certified.
FSC® is an international non-profit organisation, which promotes environmentally friendly, socially beneficial and financially viable forestry.
4 advantages of FSC:
FSC ensures comprehensive consideration of nature, animals and people in forests.
The FSC label is certainty that more trees are not felled than the forest can reproduce itself.
Foresters must have the right education, proper safety equipment and a proper wage.
FSC-certified forestry means that the trees are legally felled.